Click HERE to register for Auditions!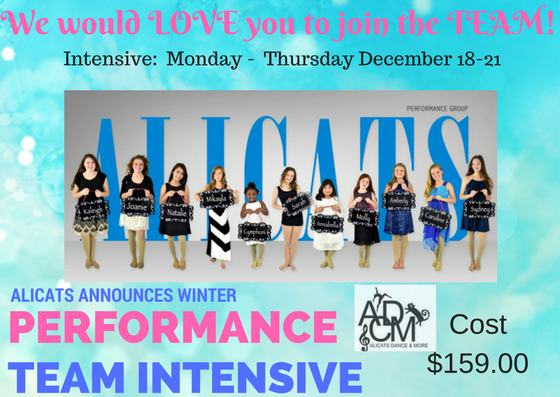 Performance Team Handbook 2017-2018
PERFORMANCE TEAM AGREEMENT AND HANDBOOK
Performance Team Director
Alison Woodbury
Assistant Director
Paisley Bishop
Performance Team Facebook Page
https://www.facebook.com/groups/ACDMperformanceteam/
How do I get On the Team?
Auditions will be held Saturday May 13th.  Dancers will be auditioning in the age bracket they fit into, and then placed in the group decided on by staff. All Performance Team members must be enrolled in one or more classes for Fall, and agree to take the team class making it a total of 2 hours of classes.
How will auditions work?
Dancers will be given numbers as they arrive and register for auditions.
The audition will be mostly Jazz with a little bit of Hip Hop.
Our Staff will be teaching the auditions and judging.
Judges score the dancers based on technique, classroom behavior, and performance.
The scores mixed with the instructors reviews will determine the Performance Team for 2016-2017
Dancers will also be asked to write a one page essay "Who inspires you? What professional dancer inspired you to dance?"
This should be turned in at auditions when registering. It can be typed or hand written.
What is Expected of a Performance Team Dancer?
Please READ the Performance Team Handbook!
Do we HAVE to perform out?
YES! That is the point of the Performance Team! We will be performing at local festivals, parades, and community events. You will have the option to sign up for these events in advance. You MUST participate in at least 5 events to maintain your spot on Performance Team.
Do we Compete?
Performance Team will not compete, however have the option of attending the conventions that the Company will be attending. One in the Fall and one in the Spring.
Do we have to be in Ballet, Jazz, or Hip Hop?
No, however you do have to be in at least 2 classes in order to maintain your spot on performance team.
Do I have to dance in the Summer?
You will be required to take at least one class over the summer, as well as participate in the Performance Team Intensive where you will learn your routines that will be performed out for the entire year!